Home

China Facts

China Provinces Map

Lanzhou China
Lanzhou China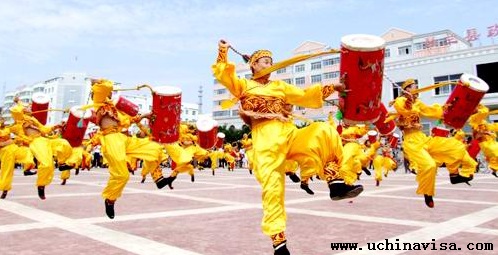 Playing Lanzhou Peace Drum
Lanzhou is the capital city of Gansu Province, and the only city in China where the Yellow River flows across the downtown area. It is called "the Capital of the Yellow River" and "the City of Mountains and Water".
The city is the transportation and telecommunication center of northwest China, covering an area of 1631.6 square kilometers (629.96 square miles).
It was once a key point on the ancient Silk Road and is now a hub of the Silk Road Tourism Ring; Lanzhou is a city made of the harmonious combination of ancient and modern times.
Find out how much your money is worth in China here if you plan to go there.
You may reach Lanzhou by taking a straight flight from your country to its Lukou International Airport, one of the ten major airports in China, which connects with 65 major cities of the world such as Tokyo, Frankfurt, Vancouver, London, Amsterdam, Chicago, Los Angeles, Moscow, Singapore and Seoul.
Or you may need to take flight to one of the most used international airports in China, such as the ones in Beijing, Shanghai or Hong Kong, and then take a China's domestic airline to Lanzhou. Read here to see how to find the best travel deals to Lanzhou China.
Find out which type of China visa is right for you here.
Back to Top of Lanzhou China

Lanzhou has five districts that comprise Lanzhou's downtown:
Chengguan: the eastern part of Lanzhou, the center of politics, economy, culture, scientific research and transportation.
Anning: the northwestern part of Lanzhou, this place is the city's economic development zone and is also where most colleges are located.
Qilihe
Xigu
Honggu
If you want to witness the local entertainment of common people, or go shopping for some Chinese things, go to Zhongxin Square (Dongfanghong Square).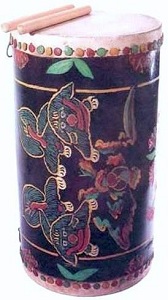 Lanzhou is famous for its Peace Drum Performance and Hand-Made-Noodles. Make sure you see the performance and taste the food. The picture at right is one sample of a Peace Drum. The picture at the top of this page is of people play the drums. Very exciting.
The popular commercial streets are:
Qingyang Lu
Zhongshan Lu
Jiuquan Lu
Zhangye Lu
Yongchang Lu
Qin'an Lu
Longxi Lu
Linxia Lu
Noticing the "Lu" at the end of every street? It means "road" in Chinese.
Back to Top of Lanzhou China
Compare and Find Cheap International Flight Fares
Flight tickets can be your biggest expense when you travel internationally. You can save a considerable chunk of money by finding good flight deals. Some travel sites provide various services to travelers. But not every site is equal; some are more expensive than others.
We recommend two other sites to look at for cheap flight fares:
1. CheapOair.com. You may find that it offers better deals than the ones your trusted travel agent can offer you.

At CheapOair.com, you may save up to 65% on Flight Tickets. Book 5 travelers and get up to $50 off by using Promo code NYC50.
Be sure to use this coupon for sales on CheapOair. Coupon code NYC15: $15 off! Expires on Dec. 31st.
2. TripAdvisor.com: The best part about it is that you may read real reviews from real travelers like you.
Find the best deal, compare prices, and read what other travelers have to say at TripAdvisor
Back to Top of Lanzhou China
Cheap flights booked? Great! If lodging in LA is also what you need, then let's move on to finding the best hotel deals. A smart hotel deal will help you save a lot. Besides, sleep is a big part of travel. A night of good rest lets you restore your energy and refresh you for another day.
We recommend two other sites to look at for best hotel deals:
Price match guarantee
No change or cancel fees on lodging bookings!
Over 135,000 hotels worldwide
Besides being able to compare and find deals on this site, what's also great about Hotels.com is that when you fill in the city you plan to go to, it shows you the important tourist attractions in that city so that you can choose which one(s) you want your hotel to be close to. It also offers you some hotel and airport names if you have a particular hotel brand in mind.
You can search for a hotel that suits your needs
Or
Shop by your favorite brands!
Since you came to this site, you can access the coupon code on the following coupon page that you may not find on your own. Be sure to tell the hotel the code after you've booked and confirmed online on hotels.com. No call-ins or faxes accepted.
Back to Top of Lanzhou China
Another place to find good hotel deals on is TripAdvisor.com. You may already be very familiar with this website because of its strong online presence. It has many reviews from real people that can help you make smart decisions on which hotel(s) to stay at. Find hotel deals there now or use the tool below to compare:
Back to Top of Lanzhou China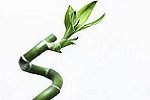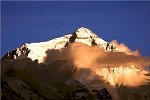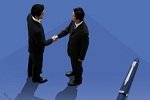 Home

China Facts

China Provinces Map

Lanzhou China