Home

Disneyland Park Passes
Disneyland Park Passes, Southern California CityPASS
Save 32% on Three Day Tickets
Disneyland, located at Los Angeles, California, is a magical place. It's a must-see attraction for families with children, and adults may find it quite enjoyable as well. It's easy to spend days there, amusing yourself with the vaious entertainments in the park. Without question, Disneyland is a great place to spend your vacation.
But you might not want spend all your vacation time at this famous park. There are many equally attractive places in Los Angeles and the nearby city San Diego, such as the Universal Studios Hollywood, Sea World, the famous San Diego Zoo and the San Diego Zoo Safari Park. If you don't live locally, you might want to make the most of your time while you're there.
That's why we put together some saving tips and coupons here so that you can enjoy your vacation AND your savings. Even if you live in Los Angeles or San Diego, you'll find these savings great deals that should not be missed.
Disneyland Park Passes, the Southern California CityPASS For Los Angeles And San Diego
The CityPASS for these two cities is known as the Southern California CityPASS or Disneyland Park Passes. It saves you 32% on the top 5 attraction tickets. It is valid for 14 days, starting on the first day of use, and lets you skip most ticket lines which saves you not just money but also valuable time.
With this pass, you have 3 days at the Disneyland Resort, plus admission to 4 more Southern California attractions, two of which are optional. See details below:
3-Day Disneyland Resort Park Hopper, including Disney California Adventure Park. With this you have back and forth access to Disneyland® Park and Disney California Adventure™ Park for any three days during the two-week period that the CityPASS is valid. Also included is one Magic Morning*, which allows you to enter Disneyland® Park one hour before regular opening time on a Sunday, Tuesday, Thursday or Saturday.
Universal Studios Hollywood: General theme park admission including the legendary behind-the-scenes Studio Tour, all rides and attractions.
SeaWorld: General Admission to the world-famous aquatic theme park including all rides and shows.
San Diego Zoo: Zoo admission including unlimited use of the Guided Bus Tour, Express Bus and Skyfari Aerial Tram.
Or San Diego Zoo Safari Park: Safari park admission including the Journey into Africa Tour, Conservation Carousel Ride, and all shows and exhibits.
The ticket cost is $408 if you buy seperately. The 3-Day Disneyland Resort Park Hopper ticket alone is about $200 depending on if you get a discount or not. With this Southern California CityPASS, your visit to the Southern California's top 5 attractions is just $276.00 (Children 3-12 $229) - SAVE 32%!
.
When you have a family with you, the savings are pretty big!
If you need to travel to southern California, the airline tickets (if you don't drive) and lodging are also two big expenses. Finding good travel deals means that you can save more. See below to find out how to find a good travel deal when planning for your trip.
Back to Top of Disneyland Park Passes
You might need to take flights to Los Angeles or San Diego to visit Disneyland, and you can save more by finding good flight deals. Some travel sites provide various services to travelers. But not every site is equal; some are more expensive than others.
We recommend two other sites to look at for cheap flight fares:
1. CheapOair.com. You may find that it offers better deals than the ones your trusted travel agent can offer you.

At CheapOair.com, you may save up to 65% on Flight Tickets. Book 5 travelers and get up to $50 off by using Promo code NYC50.
Be sure to use this coupon for sales on CheapOair. Coupon code NYC15: $15 off! Expires on Dec. 31st.
2. TripAdvisor.com: The best part about it is that you may read real reviews from real travelers like you.
Find the best deal, compare prices, and read what other travelers have to say at TripAdvisor
Back to Top of Disneyland Park Passes
Cheap flights booked? Great! Now let's move on to finding the best hotel deals. A smart hotel deal will help you save a lot. Besides, sleep is a big part of travel. A night of good rest lets you restore your energy and refresh you for another day.
Price match guarantee
No change or cancel fees on lodging bookings!
Over 135,000 hotels worldwide
Besides being able to compare and find deals on this site, what's also great about Hotels.com is that when you fill in the city you plan to go to, it shows you the important tourist attractions in that city so that you can choose which one(s) you want your hotel to be close to. It also offers you some hotel and airport names if you have a particular hotel brand in mind.
You can search for a hotel that suits your needs
Or
Shop by your favorite brands!
Since you came to this site, you can access the coupon code on the following coupon page that you may not find on your own. Be sure to tell the hotel the code after you've booked and confirmed online on hotels.com. No call-ins or faxes accepted.
Back to Top of Disneyland Park Passes
Another place to find good hotel deals on is TripAdvisor.com. You may already be very familiar with this website because of its strong online presence. It has many reviews from real people that can help you make smart decisions on which hotel(s) to stay at. Find hotel deals there now or use the tool below to compare:
Back to Top of Disneyland Park Passes
If you want to spend more time at Hollywood: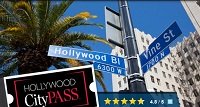 While the Southern California CityPASS
offers you a great deal if you want to visit Disneyland Park and the other top 4 attractions in Southern California, the Hollywood CityPASS saves you 46% for admission to 4 must-see Hollywood attractions:
1) Red Line Tours Hollywood Behind-the-Scenes
2) Starline Tours of Hollywood
3) Madame Tussauds Hollywood
4) Kodak THEATRE Guided Tour OR The Hollywood Museum
This CityPASS is valid 9 days starting from the first day of use. You can skip most ticket lines with this CityPASS in hand.
Visit Hollywood's "Red Line Behind-the-Scenes Tour" and 3 other attractions for just $59.00 CityPass price - $103.95 value!
Or, buy the Southern California CityPass, which includes Disneyland, SeaWorld, San Diego Zoo and Universal Studios (Free 3-Day Shipping or E-tickets).
Back to Top of Disneyland Park Passes
Have a great trip!