Home

Famous Chinese People

Crystal Liu
Crystal Liu, Chinese Martial Art TV Star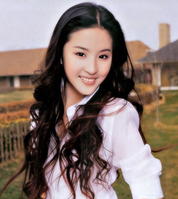 Crystal Liu (Yifgei Liu)
Her Chinese name is Yifei Liu, well known in China because of her role as a star in the TV series Return of the Condor Heroes, which is based on the novel of Jinyong.
Yifei Liu was born on August 25, 1987. Her father is a university professor, and her mother a dancer. At age 10, her parents divorced and she came to the United States with her mother to study.
In 2002, she returned to Beijing and passed the entry test of the Being Film Academy. She was soon discovered by a producer, Jianming You, who featured her in his film and predicted that she was going to be a rising star.
The prophecy came true when Yifei Liu took the role as Xiao Long Nu in Return of the Condor Heroes, who was a beautiful, skilled Kung Fu master and was free from all the worldly traits.
Besides her natural gifts and hard work, Yifei Liu has received much help along her way, among which is the help of her mother Xiaoli Liu (Picture at left), who basically a mother-agent.
Here is more information about Yifei Liu:
Nicknames: Liu Qianmeizi, Anfeng
Citizenship: United States
Date of birth: August 25, 1987
Education: Bachlor Degree in performance from Beijing Film Academy, 2002
Horoscope constellation: Virgo
Family members she respects most: mother, grandmother
Favorite colors: pink, white, blue
Favorite sport: running
Favorite animal: dog
Favorite food: plums, candy, mangoes, watermelon, eight-treasure porridge
Favorite places: Beijing, Dali, Paris, Vienna, Los Angeles
Favorite sports: swimming, dancing, tennis, golf
Favorite activities: reading, exercising
Home

Famous Chinese People

Crystal Liu