Home

Famous Chinese People

Jinyong

Condor Heroes
Return of the Condor Heroes
Starring: Crystal Liu and Huang Xiaoming
Return of the Condor Heroes is the work of Chinese Kung Fu novelist Jinyong. It has become a TV series with different versions.
This is a story about a giant eagle and its chivalric companion, that's why its English title is also The Giant Eagle and Its Companion and Divine Eagle, Chivalric Companion.
Jin Yong is the pen name of Cha Liang Yong, or Louis Cha. He was born on the 6th of February, 1924 and is one of the most popular Chinese novelists in modern China. His novels are mostly about Chinese martial arts and chivalry. He's seen as the grand master in the Chinese martial arts and chivalry genre.
His story about the Condor Heroes have been spread over all the Chinese-reading areas in the world, including Mainland China, Taiwan, Hong Kong, Southeast Asia, the United States and other countries. With the successful adoption for the big screen and TV series, his characters are beloved household names.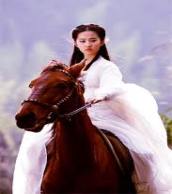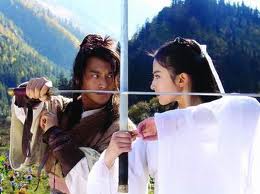 The protagonists, Xiao Long Nu and Yang Guo, in the TV series
Home

Famous Chinese People

Jin Yong

Return of the Condor Heroes