Luo Guanzhong
Home

Famous People from Ancient China

Luo Guan-zhong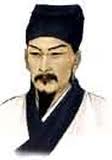 Luo Guan-zhong
Luo Guanzhong (Luo Guan-zhong) is the author of the Romance of the Three Kingdoms, one of the four classic literature works in Chinese literature.
Luo was a scholar who lived in the late Yuan Dynasty and early Ming Dynasty (1300-1400). His exact birth and death years are not known.
Romance of the Three Kingdoms is also translated as Three Kingdoms. It is an enduring historical and literary masterpiece that has great influence in Chinese-speaking countries and areas.
Luo Guan-zhong statue in his hometown Qingxu, Taiyuan, Shanxi province
Home

Famous People from Ancient China

Luo Guanzhong