Yuan Shikai
Home

Famous Chinese People

Yuan Shikai
There were a few significant Chinese political figures in the late 19th and early 20th centuries; Yuan Shikai (or Yuan Shih-kai) was one of them.
If we want to describe his life in a couple of sentences, we'd say Yuan Shih-Kai was a military general of the Qing Dynasty who turned against it. He succeeded Sun Yat-sen as the first president of the Chinese Republic and claimed himself later as a great emperor in an attempted to found a new imperial dynasty. He was born in 1859 and died in 1916.
In his early years, he had been exposed to traditional learnings such as the Confucian Classics and manners. He showed neither talent nor interest for them. Horseback riding, hunting and martial arts were the areas that he devoted his time to.
Here are the stories of Yuan Shikai:
He failed the civil service examinations twice.
He purchased a low level bureaucratic title and went to serve in the military entourage In 1880.
He spent 12 years in Korea when both China and Japan tried to assert the rights of suzerainty over Korea. He made himself a success, first as an adviser on foreign affairs, then as a commander of the three Chinese divisions in Korea.
He raised and trained Korean pacification troops for duty in the countryside, minimized Japanese and Russian influence in Korea and blocked the diplomatic relations between Korea and the Great Britain before he left Korea.
He was chosen to be the commander and trainer for China's modernized military force, the Newly Created Army, and fostered a sense of personal loyalty to him among the officers and men.
He suppressed the anti-foreign Boxers in Shandong and was appointed as the Shandong governor.
He was the commander of the largest, best-trained Chinese military force in Northern China and was known as a popular but strict commander. Foreigners perceived him as pro-Western.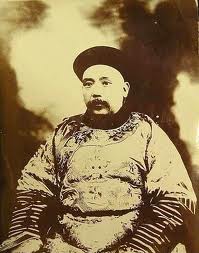 He was appointed governor-general of Zhili (Chihli) province and northern commissioner of military and foreign affairs. The patronage of the Empress Dowager Cixi was one of the reasons he had power.
Yuan was unceremoniously retired three months after Cixi's death in 1908. The reason was his foot injury.
He was summoned back to duty by the dynasty when the Double Ten (October 10th) Revolution began in 1911 and was appointed to command an army to suppress the revolution. He declined the appointment, saying his foot injury still troubled him.
He was offered the office of prime minister and finally persuaded to take up the commander position. However he had a agenda of his own. By March 1912, the last emperor was abdicated and Yuan was named the first president of the Chinese Republic, though he did not believe in the republican form of government.
By May 1913, he had gained the wherewithal to move against his opponents and consolidated his power. He replaced the National Assembly with a political council composed of his own cronies that granted unlimited powers to the president.
The outbreak of World War I broke the international power balance and put a block in his plan of founding a new imperial dynasty. In January 1915, Japan presented Yuan's government with the infamous Twenty One Demands. If they had all been granted, China would have been transformed into a Japanese protectorate. Yuan submitted to all but the most radical of them. He needed Japan to be indifferent, if not cooperative.
His monarchical movement began in August 1915. By December, orders were issued to transform China from a republic to a monarchy. But his move was met with tense defiance , revolt and hostility both inside and outside of China, including Japan.
By March 1916, the monarchal experiment was over. Yuan restored a republican government. His political power began to slip away.
In June 1916, Yuan Shikai died of uremia.
More China facts:
China Today Facts
The Great Wall of China Facts
China Facts about History
China Facts for Kids
Chinese Language facts
China Facts about its land and sea