Home

Chinese Holidays

Water Splashing Festival

Bamboo-Houses
Bamboo House: the Dai People's Living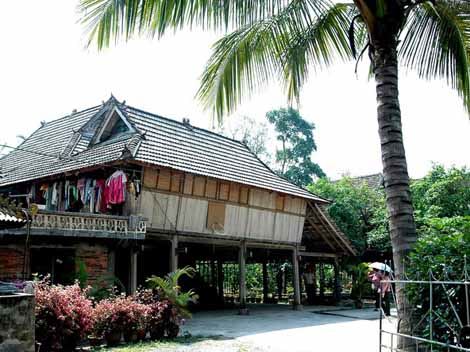 A bamboo house is a stilt-style house that uses bamboos as the main construction material. It is a popular style among Dai people in the districts of Xishuangbanna and Dehong, China.
People who live in these bamboo houses are usually shuidai (Water Dai people). They are fond of water and mostly live in valleys with low terrain and abundant rainfall.
The structures are designed to suit the weather and avoid floods, snakes and other beasts. They are pretty well ventilated as shown in the picture above. They are constructed with wood for the frames and bamboo for the purlins, rafters, floors, walls, ladders, handrails and so on. The roofs are usually laid with grass or tile.
You can tell the size of a bamboo house by the number of its wooden pillars on the floor. Large houses may have seventy to eighty pillars. The different colors and textures of the front and back side of bamboo are considered when building a house. They present various patterns.
And no matter big or small, the houses often are made up of a living room, a front walkway, a yard and a few bedrooms. You may find a terrace on the upstairs. Unlike the yard of the Han people, the yard of the Shui Dai people are open and changeable.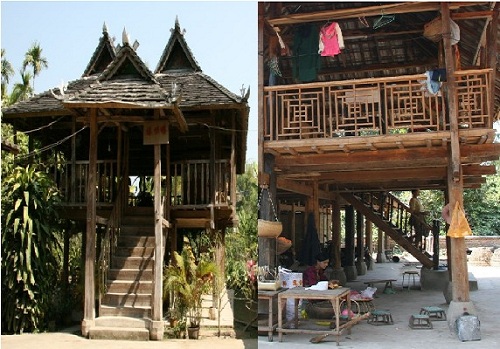 The fireplace in the living room is the center of the family life. It is said that the fire has been handed down from their ancestors and it shall be kept burning forever. It is used for cooking and as a way to dry clothes. When they have guests, the fire place is the place to sit and chat. The warmth of the fire and the words make it a cozy stay.
The roof is normally called "Kongming Hat" which is shaped like a mountain. The name is originated from the legend that Kongming (Zhuge Liang) taught the local people to build the house according to the shape of his cap.
Related Readings