About Uchinavisa Website
Home

About Uchinavisa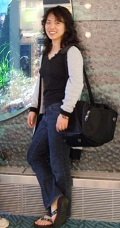 Welcome! My name is Sophia, webmaster of this site. Yes, the woman on the picture at left is me in the middle of a trip.
Uchinavisa.com belongs to a PHD friend of mine who has a rich knowledge about China and loves to be a bridge between China and the world. I was asked to manage this site for him after he saw how my Chinese food site had been doing.
Most of the articles were written by him and his team. The ones that have a more personal touch, such as How I Found Cheap Airline Tickets, usually are from me, a Chinese author who majored in Philosophy and loves to travel.
Another reason I was asked to manage this site was that I've been pretty familiar with a unique website hosting company SiteSell which provides effective tools to help people reach their online goals. This China visa site is also hosted by it.
Though the goal of this website is not merely to make a profit, it would be nice if it could support itself and have some extra to pay off its other costs. As of May 2011, when it was four months old, it has reached the goals.
If you are thinking about make a thriving online presence or online business or work for yourself, you may want to take a look of what SiteSell could do. These people might offer some insight to you too. Hey, your very travel experience might just pay for your next travel, even beyond.
You may check out the Best Website Hosting page for tips on how to choose a website hosting company for you.
Enough talk of mine. If you have a comment, suggestion or just a question, fill the form below. We'll get back to you as soon as we can.
Home

About Uchinavisa