Water Rabbit
Home

Chinese Culture

Chinses Zodiac Chart

Rabbit Star Sign

Water-Rabbit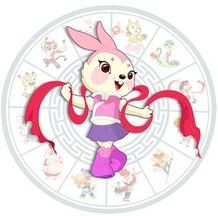 The Water Rabbit Years are:
29 Jan 1903 to 15 Feb 1904
25 Jan 1963 to 12 Feb 1964
Horoscope
People who are born in the year of Rabbit with the element of water are tender and gentle, empathic, delicate, and motivated by peace. They are also biased and introvert.
They are highly adaptable to a changing environment and are very emotional. Their performance may shift rapidly with their mood.
They can be easily satisfied, and will never be perfectionists.
Suggestions:
They need to take more initiatives when it comes to relationships. Friends and peer support are super important to them.
They need to learn how to deal with their emotion.
They need to watch out for their health, and try to save some money instead of over spending on food and entertainment.
Home

Chinses Zodiac Chart 1, 2

Rabbit Chinese Star Sign

Water Rabbit