Chunlian, Spring Couplets
Home

Chinese Culture

New Year Symbols

Chun Lian
Chunlian is called Chun Lian or Spring Couplets. Chun means spring. Chun Lian is one of the Chinese New Year symbols that are inseperable from Chinese Spring festival, or Chun Jie in Mandarin.
There are quite a few symbols that are assocciated with Chinese New Year, and each of these symbols has its own importance and deep meaning.
Chunlian
Chun Lian is an ancient tradition of Chinese New Year. In the old time, people prepared two pieces of red paper with long rectangle shape and identical size. They would pay or just ask for a favor from one of their local learned people to write auspicious couplets on the paper, normally with black ink and Chinese calligraphy.
The spring couplets normally are hung on both sides of a doorframe one month before and one month after the New Year's day, expressing best wishes and fortune for the coming year.
There is a great variety in the writing styles and the wording of these poetic couplets are intended to fit different situations, such as for a shop, a company, a school or a family.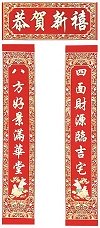 Now, spring couplets are commonly pre-printed and the paper is getting more beautiful and fancier. People can just buy them from a store, choosing the wording they like best from various options. It is a must for almost every family who has a door or a wall, not to mention business or stores to whom the prosperity is the very purpose of their undertaking.
While not everybody in the older time could afford a pair of good spring couplets that had to have somebody's handwriting if they didn't know calligraphy or were simply shy of showing their own handwrting, the printed version of the spring couplets nowadays makes it possible for almost anyone who has a wish.
We mentioned that there are two pieces of paper needed for making spring couplets; actually, it is just one of the two kinds of spring couplets. Another kind has one more paper to put on the doorframe, a horizontal one like the one shown in the picture above.
You can have more than one set of spring couplets to hang. If you like, you can have more sets, you can decorate with them for your every door, window and wall if you wish.
There are more Chinese New Year's symbols listed below. Click here or the following links to see details.
Lucky Character
Plum blossoms
Tangerines
Tray of Togetherness
Chinese Sacred Lily (Water Narcissus)
Home

Chinese Culture

Chinese New Year Symbols

Chunlian