Chinese Symbol for Aquarius
Home

Chinese Culture

Chinese Symbols

Chinese Symbol for Aquarius
Here you'll find the Chinese symbols for Aquarius in different styles.
Aquarius is a masculine sign in the western culture. When in Chinese, its name is literally Water Vase Constellation.
Since water is yin, a female force in the eyes of yin yang, and its flowing quality and soft feel point people's imagination to a fair female figure if the original legend is not known.
Some artwork that depicts Aquarius as a female has been born out of this reason. After all, Helen is a beautiful woman who played a major role in the Aquarius story too.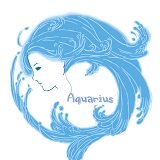 The picture at left is a pretty key chain and ornament to give to a girl whose zodiac sign is Aquarius, if you wish. It looks good on a tank or t-shirt too, with those Chinese symbols for Aquarius (See below).
A friend of mine, whose zodiac sign is Aquarius, actually customized her order and gave a male tank that has this image on it to her boy friend. It's her subtle way to say something intimate and ask to be remembered. Not a bad idea.
The following are a couple styles of Chinese symbols for Aquarius.
Here is another style:

More styles will be added soon. If you have a specific Chinese symbol that you want to know, I would be happy to help if I can. Contact me here.
Chinese Zodiac Chart
Chinese Lucky Symbols
Chinese New Year's Symbols
Chinese Zodiac Symbols
Home

Chinese Culture

Chinese Symbols

Chinese Symbol for Aquarius